All Fall Down
by Ally Carter
Publisher: Scholastic Press
Publication date: January 2015
Pages: 310
Source: Library
For: Ally Carter
Series: Embassy Row, Book 1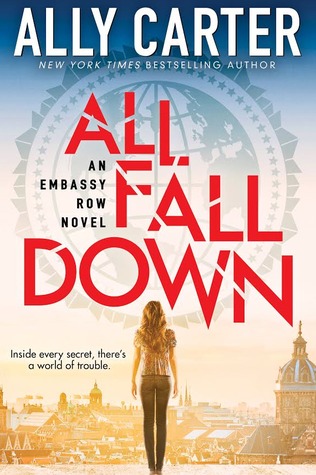 Summary (from goodreads):
Grace Blakely is absolutely certain of three things:
1. She is not crazy.
2. Her mother was murdered.
3. Someday she is going to find the killer and make him pay.

As certain as Grace is about these facts, nobody else believes her -- so there's no one she can completely trust. Not her grandfather, a powerful ambassador. Not her new friends, who all live on Embassy Row. Not Alexei, the Russian boy next door, who is keeping his eye on Grace for reasons she neither likes nor understands.

Everybody wants Grace to put on a pretty dress and a pretty smile, blocking out all her unpretty thoughts. But they can't control Grace -- no more than Grace can control what she knows or what she needs to do. Her past has come back to hunt her . . . and if she doesn't stop it, Grace isn't the only one who will get hurt. Because on Embassy Row, the countries of the world stand like dominoes, and one wrong move can make them all fall down.
Things I Liked:
This book was unusual and at times a bit annoying. I liked how convoluted the plot became and I really didn't have any idea of where it was going. It's different from what I expected of an Ally Carter book, but that doesn't make it bad. I'm intrigued and want to know more. I loved the action and the mystery of the book. I'll take anything you have to offer, Ms. Carter!
Things I Didn't Like:
I think I was a bit annoyed at times with how angry Grace tended to get. And how she didn't seem to be able to see what kinds of stupid mistakes she was making. But, I think that she was pretty realistically portrayed for what happened to her.
Read-alikes:
The Conspiracy of Us
by Maggie Hall and
Gallagher Girls
books by Ally Carter
BOOK CONTENT RATINGS:
s-factor: !
perhaps a few
mrg-factor: none
v-factor: ->->
some frightening stuff happens
Overall rating: ***