As You Wish
by Cary Elwes
Publisher: Simon & Schuster Audio
Publication date: October 2014
Length: 7 hrs, 1 min
Source: Audiobook from library
For: Fun!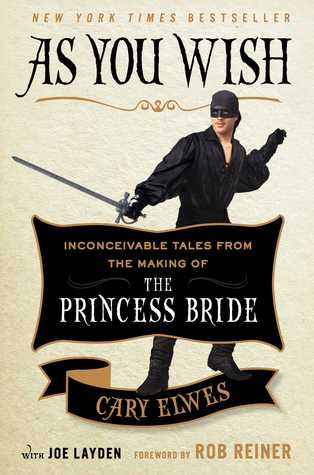 Summary (from goodreads):
The Princess Bride has been a family favorite for close to three decades. Ranked by the American Film Institute as one of the top 100 Greatest Love Stories and by the Writers Guild of America as one of the top 100 screenplays of all time, The Princess Bride will continue to resonate with audiences for years to come.

Cary Elwes was inspired to share his memories and give fans an unprecedented look into the creation of the film while participating in the twenty-fifth anniversary cast reunion. In As You Wish he has created an enchanting experience; in addition to never-before seen photos and interviews with his fellow cast mates, there are plenty of set secrets, backstage stories, and answers to lingering questions about off-screen romances that have plagued fans for years!
Things I Liked:
I listened to this on audio, read mostly by Cary Elwes, as suggested by a number of people. I do recall my mind drifting during quite a bit of the beginning where Elwes tells his story about joining the cast and meeting everyone and all that preproduction stuff. When it finally got to the stories from the movie, I really enjoyed it. I loved all the funny, quirky, and hilarious antics they all seemed to get up to. It sounds almost like an extended family reunion. It was a lot of fun to hear it in their own voices (some of them) too.
Things I Didn't Like:
Yeah, the beginning was hard for me. Otherwise, it was super fun to hear about one of my favorite movies. I watched it again not that long ago and took great pleasure in pointing out things about the scenes that I learned from the book to my husband.
Read-alikes:
Can't think of anything...
BOOK CONTENT RATINGS:
s-factor: !
maybe one or two
mrg-factor: none
v-factor: none
Overall rating: ****