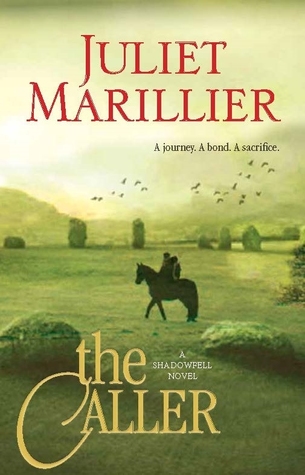 The Caller
by Juliet Marillier
Summary:
Some spoilers for the previous two books in the Shadowfell series:
Neryn is seeking to complete her training with all the guardians, but the task is proving difficult. Then, just when she thinks she might finish in time, another unforeseen threat arises that makes her position even more precarious, and Neryn must decide to put herself in a dangerous situation to help save them all.
My Thoughts:
I really enjoy everything by Juliet Marillier that I read. She has an amazing writing talent, in her descriptions and word choice, but especially in her ability to bring fairy stories to life. The fairy world she's created feels very real and the characters, both human and fairy, are so intriguing and fascinating. I love the way the fair folk speak, because it honestly makes them even more real. And makes me want to visit this place, despite its despicable tyrant. The story was a bit contrived and the ending rather convenient, but I still enjoyed it. Can't wait for more from this author!
-------------------------------------------------------
The Murder at the Vicarage
by Agatha Christie
Summary:
Colonel Protheroe was murdered - at the vicarage, in fact, and the police are having a difficult time figuring out just who might have done it. Everyone seems suspect, especially considering how unpopular the colonel was. But the unlikely Miss Jane Marple, a white-haired old lady, is the keenest detective in town and will have the mystery figured out in no time.
My Thoughts:
It took me ages to listen to this on audio (thank you,
Sync
), but I thoroughly enjoyed it. I'm not much of a mystery person, but there's a reason Agatha Christie is famous for her books. Throughout the story, I was sure the murderer was one person, then another, then someone else entirely. I was completely surprised. Interesting characters and story, not to mention the look at small-town life where everyone knows and talks about everyone else.
-------------------------------------------------------
Don't Turn Around
by Michelle Gagnon
Summary from goodreads:
Sixteen-year-old Noa has been a victim of the system ever since her parents died. Now living off the grid and trusting no one, she uses her hacking skills to stay anonymous and alone. But when she wakes up on a table in a warehouse with an IV in her arm and no memory of how she got there, Noa starts to wish she had someone on her side.

Enter Peter Gregory. A rich kid and the leader of a hacker alliance, Peter needs people with Noa's talents on his team. Especially after a shady corporation threatens his life in no uncertain terms. But what Noa and Peter don't realize is that Noa holds the key to a terrible secret, and there are those who'd stop at nothing to silence her for good.
My Thoughts:
I really tried to like this one more (I couldn't even write a summary). I thought it sounded intriguing and loved the idea of it. The characters were uninteresting and worse, I disliked them. I couldn't even bring myself to root for them. The story seemed to be a little bit all over the place. It's been a while since I read it and I can't even remember much of what happens. Too bad, since it really sounded interesting.
-------------------------------------------------------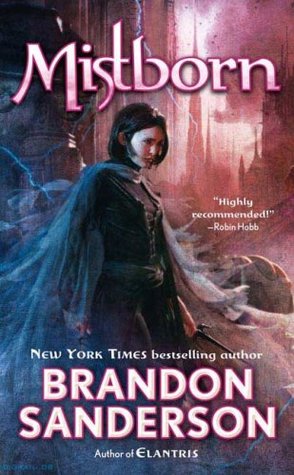 Mistborn
by Brandon Sanderson
Summary:
Not sure I can even do a summary. Let's say this: evil emperor, underdogs making an effort to overthrow him, seriously cool powers: allomancy, fabulously created fantasy world.
My Thoughts:
This was my first adult Brandon Sanderson book. Wow, he really does have a talent. Yes, the books are thick and detailed and full of world-building. I loved every second of it. I adored the characters and I need to find the time to read the rest of this series. This world is fascinating and complicated and I am so in awe of Sanderson's ability to create multiple worlds of this depth. Need more!
-------------------------------------------------------
Unmade
by Sarah Rees Brennan
Summary from goodreads
:
*Spoilers for the previous two books in the Lynburn Legacy series*
Kami has lost the boy she loves, is tied to a boy she does not, and faces an enemy more powerful than ever before. With Jared missing for months and presumed dead, Kami must rely on her new magical link with Ash for the strength to face the evil spreading through her town.

Rob Lynburn is now the master of Sorry-in-the-Vale, and he demands a death. Kami will use every tool at her disposal to stop him. Together with Rusty, Angela, and Holly, she uncovers a secret that might be the key to saving the town. But with knowledge comes responsibility—and a painful choice. A choice that will risk not only Kami's life, but also the lives of those she loves most.
My Thoughts:
I have to admit, the first book in this series was my favorite. I found as I continued the series that I was less and less interested. Yes, things are more scary and dark. Yes, Kami is still fabulous and her entire personality fascinates me. The dialog and the interactions of all the characters is the most interesting thing about this series. I love the humor and how they still manage to be teenagers despite the horrible stuff they're fighting. The end seemed a little crazy and all over and what in the world is going on here, but satisfying too. Even if a cried so much over a particular
part :(
If you buy through my Amazon linkage, I will get a very small percentage