The Winner's Curse
by Marie Rutkoski
Publisher: Farrar, Straus, & Giroux
Publication date: March 2014
Pages: 355
Source: e-book from Library
For: Fun
Series: Winner's Trilogy, Book 1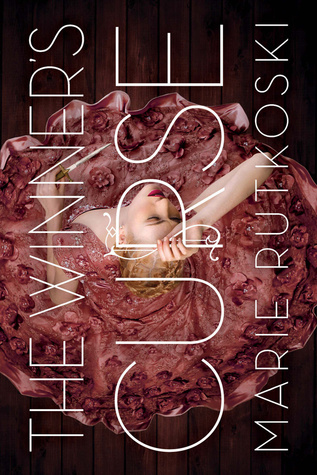 Summary (from goodreads):
As a general's daughter in a vast empire that revels in war and enslaves those it conquers, seventeen-year-old Kestrel has two choices: she can join the military or get married. But Kestrel has other intentions.

One day, she is startled to find a kindred spirit in a young slave up for auction. Arin's eyes seem to defy everything and everyone. Following her instinct, Kestrel buys him—with unexpected consequences. It's not long before she has to hide her growing love for Arin.

But he, too, has a secret, and Kestrel quickly learns that the price she paid for a fellow human is much higher than she ever could have imagined.
Things I Liked:
Ooh, I enjoyed this one. It was both what I was expecting and completely not - more! I loved the characters and especially the world - I seriously want to play bite and sting, but know I have very poor strategizing skills. I just love how she thinks and how she knows what to say and not say, but also makes mistakes. I don't know what exactly it was that drew me in, but I fell hard for this story. I'm not even that big a fan of the romance, but I love how very impossible it feels and then how it isn't easy and nothing happens conveniently. Very realistic world and very well drawn.
Things I Didn't Like:
Can't remember anything.
Read-alikes:
A bit like
An Ember in the Ashes
by Sabaa Tahir
BOOK CONTENT RATINGS:
s-factor: !
a very few
mrg-factor: X
mostly talk
v-factor: ->
a little
Overall rating: *****