Time to play catch up on 2014 books and a whole slew of mini reviews are headed your way. Enjoy?
Switched by Amanda Hocking
Summary:
Wendy hasn't had an easy life, what with her mother trying to kill her when she was six. But, things are about to get way more complicated when a mysterious guy comes to take her "home." She's a changeling and now she's thrown into a whole new magical world that she has no idea how to navigate.
My Thoughts:
Blech, blah, ugh. If this hadn't been for a book group, I would have chucked it long and hard. I did not enjoy the writing (a rather kind way of putting it), the characters made me crazy, the story was derivative, and I just didn't care what happened. After having a book club member who loved it tell me what happens in the rest of the series, I'm soooooo glad I didn't bother reading more. Save yourself from this book. (Whew, sorry that was such a nasty review - I had a pretty strong reaction. Lots of other people really like this series, so read some other opinions before writing it off completely :)
-------------------------------------------------------
House of Secrets
by Chris Columbus and Ned Vizzini
Summary:
When Cordelia, Brendan, and Eleanor move into a mysterious new mansion, they expect to have adventures. Just not to be thrown into a world full of warriors, pirates, and evil queens. Now they have to figure out just where they are and how they will get home again.
My Thoughts:
I had a lovely friend recommend this to me. I still like that friend. I did not like this book. Almost in the first three chapters I wanted to stop reading, but made myself continue so that I could return it and tell her I finished. The writing left much to be desired. Every other sentence had a product drop (this will age the book very quickly) and I couldn't bring myself to care about characters who didn't have much in the way of personality. Also, the plot was very convoluted, all over the place, and not entirely sure where it was going. Not worth the time spent reading it, I felt.
-------------------------------------------------------
What Alice Forgot
by Liane Moriarty
Summary:
During an ordinary day at the gym, Alice falls and suffers some memory loss - as in the last ten years of her life. Alice only remembers being in love with her husband, expecting her first child, and loving where she was at in life. She is forced to face the truth of her 10 years older life - getting divorced, three children, and completely different from who she was before. So, which Alice is she?
My Thoughts:
Hey, I actually enjoyed this one :). I bet you thought this whole post would be full of negative reviews. Anyway, we read this for
book group
as well and I found it really fascinating. What I liked most wasn't even the story or characters, it was the idea of looking back at myself ten years ago and wondering if I would like who I am now. We change in such subtle ways we might not notice until we are somewhere completely different. Also, because of my personal experiences with infertility, I was dying for more of Elizabeth's story. Thought-provoking.
-------------------------------------------------------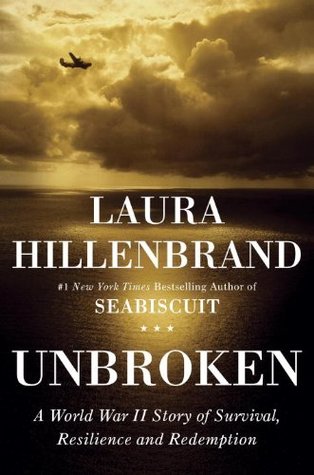 Unbroken: A World War II Story of Survival, Resilience, and Redemption
by Laura Hillenbrand
Summary:
This tells the story of Louis Zamperini, former Olympian runner who gets caught up World War II as an airman. His incredible story of survival of a plane crash, days adrift at sea, and as a prisoner of war will enthrall and horrify. But his survival and how he deals with all of it, will inspire.
My Thoughts:
This is a powerful story. I love how detailed and very well-researched this book was. As I was reading, I kept thinking Louis' life couldn't get any more horrifying. And then it would. It always seems like I read fiction because it is more interesting than real life. This disproves that 1000 times over. Near the end, I was super depressed, because he really just struggles so much and against such terrible odds. And then he finally comes home and he has to deal with the emotional and physical toll that being imprisoned and tortured left on him. But the most beautiful part of all is what the title suggests. He was unbroken. It's a tough read, but if you get to the end, you will see your life in a whole new way.
-------------------------------------------------------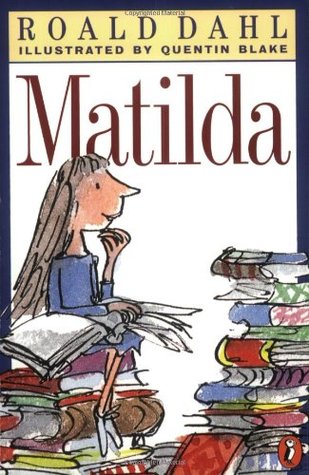 Matilda
by Roald Dahl
Summary:
Matilda is pretty much a genius, but brushed off by her uninterested parents. She hoped school would be different, but Ms. Trunchbull the evil school mistress is determined to squelch any fire of Matilda's spirit. But Matilda is determined to fight back.
My Thoughts:
I'd never read this book as a kid and I really enjoyed watching Matilda discover herself and deal with the difficult family she had. I was a bit surprised at how there doesn't seem to be much of a story, though. It was much more simplistic and convenient (particularly the very end) to be believable. I'm quite sure I'd have loved it as a kid, but reading it as an adult, I found it just a bit ridiculous.
If you buy through my Amazon linkage, I will get a very small percentage