I'm not a very outgoing person. I think I mentioned it before, when we had the summer Utah book blogging social. But, I decided to put more effort into mingling and socializing at our latest event. I definitely improved, but I have a long way to go yet.
We gathered because of the beautiful organizing skills of these fine ladies, who deserve our thanks:
Natasha from Maw Books
Suey from It's All About Books
Becky from One Literature Nut
Here's a list of many of the Utah book bloggers and there were lots and lots of them at the social on Saturday (as well as Utah authors). I didn't meet nearly as many as I'd like, but I did talk to a few. I was really happy to meet Suey from It's All About Books, Kim from Good Clean Reads and Alison from So Many Books, So Little Time. I also met Brenda from Brenda Loves Books and a few others who I listened to, but didn't actually talk with. I had a few minutes (or seconds) to chat again with Cari from Bookscoops, Becky from One Literature Nut, Angie from Angieville, and Natasha from Maw Books.
Where I failed, however, was in chatting with the authors (I'd try to name them all, but I'm sure I'd leave some out). Seriously, I have an inability to approach them. One thing at a time, I guess. Anyway, here are some photos that other people took, since I didn't bring a camera.
This photo was taken from Suey's fabulous recap at It's All About Books (there are tons more photos there too and she names the people in them :)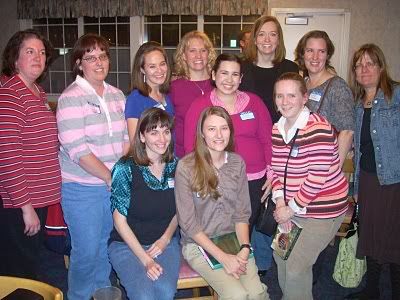 I'd better not try to name everyone in this photo, since I don't know everyone, but that's me in the front (with the long hair) and that's as close as I got to Shannon Hale the whole evening :)
(photo courtesy of Natasha)

Lots of authors and bloggers here, all of them very cool. And since he's the sole male in the photo, I'll point out James Dashner.

I'm already looking forward to our summer social!

If you buy through my Amazon linkage, I will get a very small percentage