Here are a couple of mini reviews; I didn't have much to say about these ones (or forgot what I wanted to say).
Wednesdays in the Tower
by Jessica Day George
This is second in the Castle Glower series, first one was
Tuesdays at the Castle
, which I really enjoyed. This one was sweet and rollicky good fun. I like the griffin most of all. The book did, however, seem to kind of lose its way a bit in the middle. I felt like it didn't move us forward a lot in the series until much later and lots of things happen right near the end that aren't entirely clear. But I might read more in the series later.
Waistcoats & Weaponry
by Gail Carriger
This is book 3 of the Finishing School Series by Carriger. Honestly, I wish it was the last. I tire of the series. I'm ready for it to be over (and expected it to be the last, what with trilogies being the Thing), but there's another book. Some stuff actually happened in this one, though I can't seem to remember much of it. It's definitely as quirky and weird as the others, if that's your thing.
Midwinterblood
by Marcus Sedgwick
This book is super weird, but in a good way. It is a crazy interesting story of reincarnation and enduring love. I was very much swept away in its atmospheric feeling and the beautiful writing. I did spend a lot of time wondering what was going on. I think that was on purpose. I read this for the Printz award, and can see why it was chosen. Still, very strange. It reminded me of the strange in
Chime
by Franny Billingsley, which I also really liked.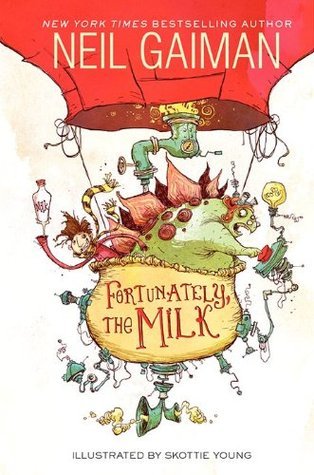 Fortunately, the Milk
by Neil Gaiman
I read this because, Neil Gaiman. Also, I got a review copy in the mail. Yes! This is such a fun book. What a great read-aloud this would be with your kids or in school. I loved how funny and cheeky and just downright wacky it got. Will definitely get laughs out of your grade school kids (and older). I only wished there was more when it ended.
If you buy through my Amazon linkage, I will get a very small percentage