Into the Still Blue
by Veronica Rossi
Publisher: HarperCollins
Publication date: January 2014
Pages: 400
Source: e-book from Library
For: Fun!
Series:
Under the Never Sky
, Book 3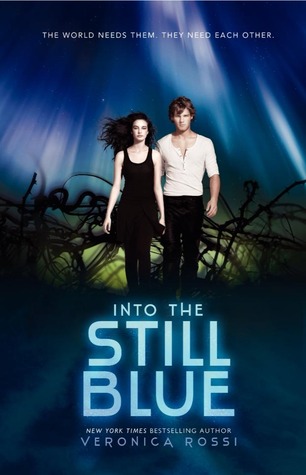 Summary from
goodreads
:
*Spoilers are inevitable for the first two books*
The race to the Still Blue has reached a stalemate. Aria and Perry are determined to find this last safe haven from the Aether storms before Sable and Hess do—and they are just as determined to stay together.

Within the confines of a cave they're using as a makeshift refuge, they struggle to reconcile their people, Dwellers and Outsiders, who are united only in their hatred of their desperate situation. Meanwhile, time is running out to rescue Cinder, who was abducted by Hess and Sable for his unique abilities. Then Roar arrives in a grief-stricken fury, endangering all with his need for revenge.

Out of options, Perry and Aria assemble an unlikely team for an impossible rescue mission. Cinder isn't just the key to unlocking the Still Blue and their only hope for survival--he's also their friend. And in a dying world, the bonds between people are what matter most.
Things I Liked:
Exciting, fast-paced end of a good series. I like this series a lot, especially because it doesn't seem to fall into the second and third book issues I don't enjoy. I did think things got a little convenient in the end, and I wasn't happy with how things happened with Cinder, but overall, a good end to the series. A fascinating world and pretty well fleshed out. Loved the many different kinds of characters and how they all felt very individual. Aria and Perry were a little too cheesy at times, but I guess they earned it. But Roar is the one who fascinates me.
Things I Didn't Like:
It has its flaws, but I really just enjoyed the read. The end, as I mentioned, sometimes was a bit too convenient, particularly in what happened with Perry, but still.
Read-alikes:
Still reminds me a tiny bit of
Uglies by Scott Westerfeld
Dust Lands series by Moira Young
BOOK CONTENT RATINGS:
s-factor: !@
some
mrg-factor: X
generally implied
v-factor: ->->->
quite a bit
Overall rating: ****
If you buy through my Amazon linkage, I will get a very small percentage